St Petersburg Pulkovo Airport
Learn More About This Russian Airport.

Founded on June 24th in 1932, the Pulkovo Airport is one of the busiest and fastest growing international air hubs in Russia after Moscow's Domodedovo, Sheremetyevo and Vnukovo airports.

In 2012 it had a capacity of 11 million passengers and, according to the last traffic forecasts, it is likely to process more than 17.3 million passengers by 2025 and has the potential to reach 40 million passengers by 2039.
In response to this estimated increase in visitors and to improve the image of Russian transport infrastructure, the government decided to build a new, modern terminal to offer a pleasant experience to everyone traveling to and from Russia.
In fact, St Petersburg airport is no longer small, disorganized and out-dated as, unfortunately, it was in the past; now it has everything you need to kill time while waiting for your flight. 
You name it, this airport has it!
Note: The new, centralized terminal of St Petersburg airport began operations at the very end of 2013.

A LOOK INSIDE THE NEW PULKOVO TERMINAL
---
Located 23 km from the city center, and open for business in December 2013, the New Terminal of Pulkovo Airport (the third one) is the place where you will touch down or take off by plane.
Forget about the old Pulkovo 1 and Pulkovo 2, they are both shut down. Now there is only one big terminal serving both international and domestic flights. So no more confusion!
The newly constructed building boasts 110 passport control desks to speed up immigration processing and has 88 check-in desks to avoid long queues.
Inside you will find several shops and cafes, restaurants, ATM machines, a children's playground, a bank, an information desk, a car rental desk and much, much more to relax, stuff your belly or refresh your mouth before your departure or after your arrival.

Honestly, compared to the two old terminals, everyone landing at Pulkovo's new terminal will be impressed by the efficiency of the building, which consists of four levels connected by escalators, staircases and elevators.
The first level, which is the ground floor, houses the arrivals and baggage claim area. The second floor houses the passport control area, a tourist center and several recreational areas. The third floor is home to the departures and customs area as well as additional recreational areas. The fourth floor has a playground for kids and a business lounge.

We bet, nobody will be disappointed with this new terminal! Rather, everyone will be amazed not only by the comfort it offers, but also by its glass skylights and geometric panels and the unusual gold, domed ceiling that surely will remind you of the stunning domes on the city's Church of the Savior on Spilled Blood.

Don't take our word for it, check for yourself!

A LOOK BACK AT PULKOVO TERMINAL 

I
---
Designed by the architect A.V. Zhuk and built in 1973, the Pulkovo airport terminal I served domestic flights and flights to the former soviet republics until December 2013.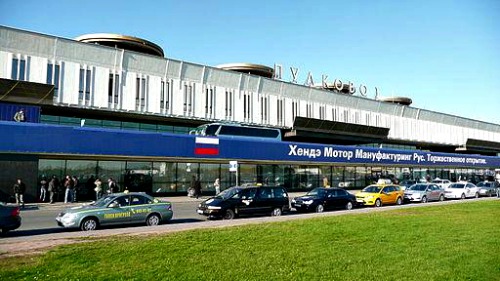 Photo of the old Terminal 1
Although it is now closed, there are rumours that once the current renovation has been completed all domestic flights may once again depart from here or it may be used as passenger waiting area for the new terminal.
A LOOK BACK AT PULKOVO TERMINAL II



---
Built in the early 1950s and completely renovated and redesigned back in 2003, the Pulkovo airport terminal II served international flights until December 2013. Today it has been shut down and replaced with the new, modern terminal Pulkovo.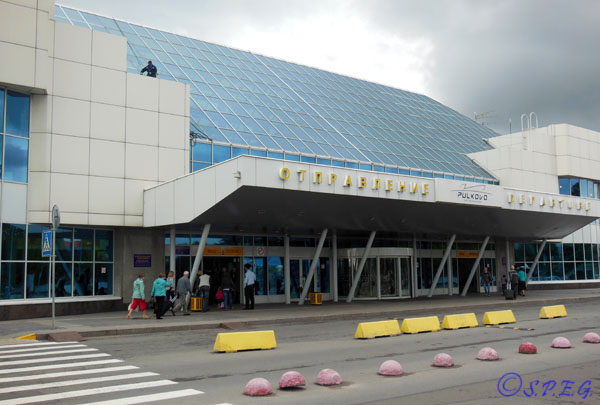 Photo of the old Terminal 2.
FROM PULKOVO AIRPORT TO DOWNTOWN



---
To get to town from the airport, you can take a taxi, the bus №39 or a minibus K39. They will all bring you to the nearest Moskovskaya metro station in no more than 20-30 minutes, depending on traffic.

The city bus stop is located at the exit of the arrival hall on the ground floor of the terminal.

The city bus runs daily every 15-20 minutes from 5.30 am until 01.30 am. The Minibus runs every 5 minutes from 7.00 am until 23.30 pm.
As of March 2015 the ticket price is 28 rubles (€0.45/$0.50) for the city bus, 36 rubles (€0.55//$0.65) for the minibus, and should be no more than 1000 rubles (15€/17$) for a taxi, while the cost of the baggage is 25 rubles per piece if a suitcase is extremely large.
TIPS AND RECOMMENDATIONS
---

If you want to avoid getting overcharged by hotels or illegal taxi drivers and don't want to struggle with your luggage

t

he

best option is to book a private transfer before your arrival.

If you want to take a taxi upon your arrival instead, never take a taxi offered by one of those helpful guys hanging out at the airport, but look only for the official airport taxi.
If you are on a tight budget or you just want to save some money, the cheapest option is to take a bus to the nearest

Moskovskaya

metro station. From there you should be able to continue your journey easily to your final destination.
Beware of the money exchange office, which offers poorer rates than downtown. A better deal would be to use the airport ATMs, which give rubles at the official Central Bank exchange rate; though they may not always be working. So, make sure you have Euros or US dollars to change in your pocket, just in case the ATM machines aren't working.
As of March, 28 2014 the Pulkovo-2 international airport does not operate any flights and is closed. All flights - local and international - depart/arrive to the new terminal.

Written by Davide C.


---
From Pulkovo Airport return to St Petersburg Airport or go back to the Homepage.

Like this page? Was the information helpful?
Help us grow our website by sharing this page with others. If you're in the mood to go the extra mile and buy us a drink it will help us to continue to run this website. We appreciate it, thanks! Spasibo!
DO YOU LIKE ST PETERSBURG ESSENTIAL GUIDE? HAVE YOU FOUND THIS PAGE HELPFUL?
---
If you do, please help others to find out about it. If you have a blog or website, or know someone who does, consider linking to us. Share the link on Facebook, Tweet it... you get the idea. Every link helps!