Russian Visa Invitation
A Document Needed Before Applying For Your Visa!

Looking for a Russian Visa invitation? If so, you've come to the right place. Here you can get as many invitations as you want, including a full registration.

If you're planning to travel to Russia independently, in order to get a Russian visa, first you must have an official invitation to present at your nearest Russian Embassy along with other documents required to allow them to process a visa. Failing to bring such a document, your application will be incomplete, so won't start.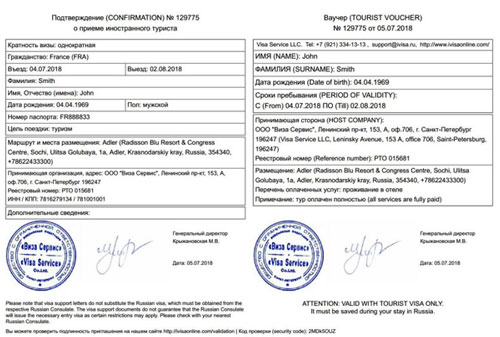 Copy of one of my first Tourist Visa Invitations.
For your information, you can choose from several kinds of invitation: Tourist Invitation (if the purpose of your trip to Russia is for tourism or leisure, and you stay no longer than 30 days); Business Invitation (if the purpose of your trip to Russia is for official or private business, and you stay for a maximum of 30, 90 or 365 days); Private Invitation (if you travel to Russia for visiting friends or family, and your stay lasts no longer than 3 months); Student Invitations (if you come to Russia for study purposes, and you want to stay from 3 to 6 months, or a maximum of one year.
Among all of these types of visa invitations, the easiest and quickest to get is the tourist one, while for the others it will take you about a month to get through the process, plus it will require lots of paperwork. Also, in some cases, it might be necessary for you to bring original documents to the consulate. Hence, a cool head is really needed if you do things on your own!

Please, don't make the mistake of thinking that with just an invitation letter you'll enter Russia, because it's not like that. The visa support document is just an official document you need to complete your visa application regardless of where you apply. If you try to enter Russia with the visa support documents alone you will either be refused entry, or if you have arrived by air, then you will be deported.

Now the question is do you know what type of visa you need?

If you do, then why not get your Russian visa invitation from us? It doesn't cost much and will help you avoid most of the bureaucracy. Also, at an additional cost we will register you at the Federal Migration Office upon your arrival. This way all the formalities are over, and Saint Petersburg is all yours.☺

Interested in getting a Russian visa invitation, precisely a tourist one?
If so, learn more below.

HOW IT WORKS
---
If you are on this page and still reading, maybe you are thinking of getting a Russian visa invitation from us. Surely your best choice!☺
We partner with a trustworthy and registered local tourist agency that has been in business for more than twenty years ensuring efficient and reliable service to their customers. We know them very well as we have used their services a couple of times for arranging tourist invitations for our friends, including myself the first time I was travelling to St Petersburg. So, if we trust them, you can trust us!
With that in mind, if you wish to order a tourist visa invitation with us, please follow the steps below :

First, complete the application form below carefully;
Secondly, send to booking@st-petersburg-essentialguide.com a clear scan of your passport. We need the page with your photo and your personal details, including your passport number. In the subject line of the email, write "Russian Visa Support".
Thirdly, wait for an email confirmation from us.
Lastly, pay via PayPal the amount due (Credit cards accepted, but only via PayPal).

Once we receive your application form with a copy of your passport, and the payment is clear, we will review all the information you sent and submit them to our agency, which will start the process of the invitation. Then, when the visa invitation document is ready, we'll send it to you by email. 
After receiving the visa support documents all you have to do is to take them to your nearest Russian Embassy/Consulate. When you go remember to take with you the following documents:
Valid passport;

Two passport size photographs;

Completed visa application form;

Proof of travel insurance;

Statement of consular fee payment;

Letters of employer.
These are all the documents you need to apply for your Russian visa.

Keep in mind that we do not supply a visa, but only the official invitation and voucher, two documents required by Russian law. Also, according to which country you come from the support visa process may change or require additional information or documents.


TOURIST INVITATION
---
Below you can find the fee for processing a tourist visa invitation, including the visa registration. By now you should know that upon your arrival in Russia you have to register at the immigration office, but only if you stay longer than seven days. Don't forget it!

For your information, the Tourist Invitation is comprised of a tourist voucher and a reservation confirmation, both on one A4-sized sheet.
So, when ordering a tourist invitation, whether it is for a single entry, or for a double entry, you will get a scanned copy (per e-mail) both of the official Visa Invitation and Tourist Voucher from an authorized Russian travel company, basically our partner.

Note: Originals are sent by post only when required by the Embassy/Consulate (normally the copies are sufficient), so no worries.
BUSINESS INVITATION
---
The business invitation, a long-term visa support, is comprised of the original invitation issued by Russian immigration authorities (Ministry of Foreign Affairs) valid for 1, 3, 6 or  even 12 months. This, along with the visa application form available at the consulate, are  part of the documents you need to get your Russian visa.

Unfortunately, we don't provide this service, too much hassle. Sorry!
However, if you're coming on a business trip, your partners will most probably take the matters into their own hands and send you an invitation, no need to worry as well.

GET A RUSSIAN VISA INVITATION TODAY
---
Ready to apply? If so, stretch your fingers and fill out the online form below. Then, just wait for the next instructions.


ADDITIONAL INFORMATION
---
HOW TO SUBMIT AN APPLICATION?
To order a tourist invitation, just use the online form above.
I NEED MORE THAN ONE INVITATION. HOW DO I DO THAT?
If you're a group of travelers, let's say 4 people, then each travelLer need to submit their own application. The application form above is for one applicant, so each applicant needs to complete the form or have it completed on their behalf.

WHAT IS THE PROCESSING TIME?
The processing time is how long it will take us to prepare your support documents and send them to you. Usually 24 hrs, or maximum 48 hrs.

DO I NEED TO INDICATE THE EXACT DATES OF MY VISIT TO RUSSIA?
If your exact travel dates are not yet settled, it is always a good idea to obtain a tourist invitation for a longer period than you actually plan to stay in Russia. Then you can get a visa for the same period and travel between the dates with no problem. You cannot enter earlier or overstay your visa but you always can enter the country later and/or leave it earlier than originally planned.
DO I NEED TO INDICATE MY EXACT ITINERARY?
Please indicate the main cities you plan to visit. Small towns and places that you plan to visit for a day or two do not need to be specified.

WHEN CAN I EXPECT MY RUSSIAN VISA INVITATION AND HOW WILL IT BE SENT?
If the application is submitted correctly can be processed immediately, so your invitation will be issued within the requested time frame.

CAN YOU SEND THE INVITATION TO THE CONSULATE OR EMBASSY?
The regular practice is that all the paperwork required for the visa processing is submitted to the consulate by an applicant. An invitation issuer is not supposed to send the invitation to the consulate and the documents sent to the consulate may be disregarded unless the consulate has specifically required that the invitation is sent to them directly.
HOW TO READ MY RUSSIAN VISA INVITATION?

A tourist invitation comprises two documents: a confirmation and a voucher. We place the documents on the same sheet of paper for convenience. Hence two signatures and seals. The confirmation is on the top of the document, the voucher is below. Full name and reference number of the invitation issuer are indicated in Latin characters on the top of your voucher.
I HAVE RECEIVED MY RUSSIAN VISA INVITATION. WHAT NEXT?
Once you have obtained an official invitation, you can apply at the Russian consulate in your country for an actual visa.
WHY IS YOUR FORM SO LONG?
It's long because we want to be sure that our clients obtain visas at the Russian consulate with no complications.☺

I AM IN RUSSIA. HOW DO I REGISTER MY RUSSIAN VISA?
A foreign citizen must register with the local migration authorities within 7 business days upon arrival. Then a visa has to be re-registered at each city where you stay more than 7 business days.
The registration must be completed by the receiving entity. Please note that the receiving entity is not necessarily the same as the inviting organization or hotel entered in the person's invitation and visa but a company, hotel or person a foreigner is actually visiting in Russia. If you do stay at a hotel, the registration is fully taken care of by the hotel reception. If you stay at a private apartment, your visa is to be registered by your landlord.
However, it may sometimes happen that your hotel cannot provide you with visa support or may be unwilling to register you. In that case, you need to ask someone else, for example us, but this must be done before you leave Russia.
Note: If you still have some questions about your Russian visa invitation, please send us an email to info@st-petersburg-essentialguide.com. We'll reply to you as soon as we can.

Written by Davide C.


---

From Russian Visa Invitation return to Russian Visa or go back to the Homepage.

DO YOU LIKE ST PETERSBURG ESSENTIAL GUIDE? HAVE YOU FOUND THIS PAGE HELPFUL?
---
If you do, please help others to find out about it. If you have a blog or website, or know someone who does, consider linking to us. Share the link on Facebook, Tweet it... you get the idea. Every link helps!