Tour St Petersburg with us

Explore Russia's Northern Capital
with Our Professional Guides and Feel Part of the City.
Want to tour St Petersburg individually or in a group? Looking for a unique personalized tour? Have you not yet found what you're looking for? If so, let us help you.

If you are planning a visit to St Petersburg soon and you're looking for help in organizing your Russian tour, then don't look any further! You've just landed on the right place with the right people.☺
Me (on the right) and Anastasia (on the left) together with our team of tour guides in St Petersburg, Russia.
We, Davide and Anastasia, two locals living here, can help you to organize a tour of the city and its environs or customize one according to your time, needs and interests. We can combine your favorite tour with a qualified private guide who speaks your language and loves the city as much as we do.
We can arrange any type of tour (by car, bus, boat, bike, helicopter or on foot) and buy entrance tickets-vouchers to the museums and palaces before you come. We can supply a car, a minivan or a minibus with a driver to let you see the city independently and comfortably and, if you need, we can also advise you or assist you with your Russian visa.

Whether you come by plane, cruise ship, ferry, train or bus, it doesn't matter! If you are a small or large group of people, no problem! If you are a young or old couple, solo traveler or family with kids, no worries! Whatever is your situation or request we'll work with you and do our best to make your tour of St Petersburg comfortable, friendly and memorable.
Ready to tour St Petersburg with us?
If so, get started by sending a tour request today. See the links below for more info.

TOUR ST PETERSBURG WITH US
WHY TOUR ST PETERSBURG WITH US
---
Simply because we are different, affordable and enthusiastic about showing you, your friends and family our beautiful and cultural Russian city.

If you don't know yet we are not a travel agent! Our independent travel website is for self motivators, travellers who prefer to organize their trip on their own with the help of someone who has been there and done that.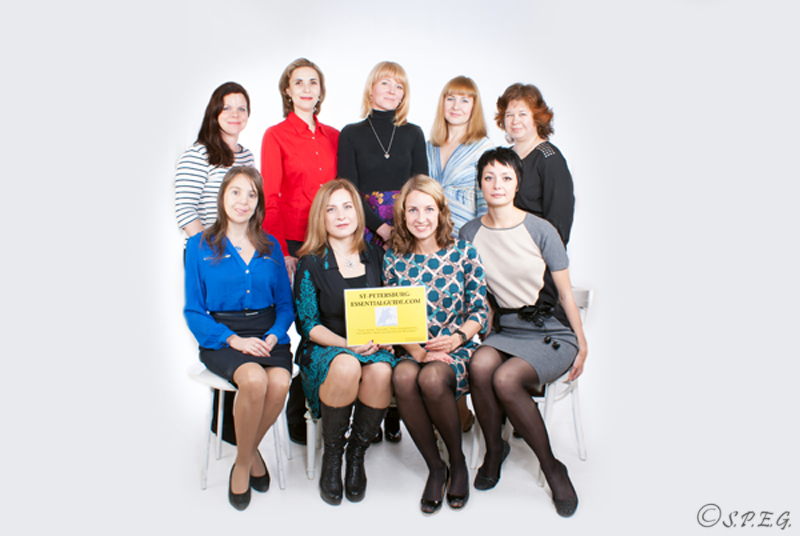 Our Team of Professional Guides in St Petersburg, Russia.
Our primary goal was, is now, and always will be, to provide free first-hand information to help travellers like you to plan your trip to St Petersburg and enjoy your stay. But as people often ask us for recommendations about tours, we've decided to challenge ourselves and have started to organize tours as well by founding St Petersburg Essential Guide Tours,(S.P.E.G. tours), a licensed company recognized by the local Tourism Office.
This way we can organize tours!☺
As we live in St Petersburg and we do what we do, we have learned over the years about the city, different tours and tour operators. We don't know them all and we don't have answers for everyone, but we do have experience in tours organization and the back-up of our professional guides who have shared their knowledge and experience with us.
Today, we collaborate with experienced licensed guides who have worked in the tourism industry for many years. The same professionals you may find working for some of those obsolete Russian tour companies you see listed on Google, Viator or travel forums.
The difference between these old Russian travel companies and us lies in the quality and unique approach we offer.
Anastasia and Me (Davide), founders of St Petersburg Essential Guide.
So, if you decide to tour St Petersburg with us expect to...

Be entertained, engaged and have fun;
Pay not more than Viator or any Travel/Tour companies listed on Tripadvisor or Google;
Enjoy your tour in your native language - currently we offer tours in English, Italian, German, French, Portuguese, Spanish, Greek, Chinese, Bulgarian, with more languages to come;
Plunge into the atmosphere of the Northern Capital with friendly and professional guides who won't only give you bare facts, dates and names, but also introduce you to the mysterious world beyond the city guidebooks;
Discover sides of the city that many people never get to see;
Get a real inside view into Russian life;
Be treated as individuals in a setting which easily allows all of your questions to be answered;
Have detailed and authentic information from our knowledgeable experts who will help you to put all you see into a clear context;
Be able to personalize your tour based on your schedule, budget, preferences and of course your places of interests.
Our St Petersburg tours are perfect for:
Visitors with special interests;
Senior travelers or disabled people;
With that in mind give us a try. We're sure you won't be disappointed!☺


ABOUT OUR TOUR GUIDES
---
Finding a local private guide in St Petersburg is not that difficult, but finding one who is enthusiastic about sharing their city with you might be not easy.
There are many young and middle-aged tour guides in St Petersburg Russia. Some are qualified and experienced and they are eager to share their interesting stories, cultural knowledge and love for the city, others are not.
We, at St Petersburg Essential Guide, have managed to find not only local tour guides that have many years of experience and have successfully passed their exams at the first attempt and got licenses to the museums, palaces and cathedrals, but also individuals who hold a degree in Russian literature, art and history.
So, they are people that along with their well-earned certificate have a solid university background and a deep knowledge of their city who enthusiastically love to share it with visitors like you.
This will undoubtedly add an enormous value to your St Petersburg sightseeing tours.
That's why we believe that if you're going to tour St Petersburg with us, you'll be impressed as much as we were by the insight, competence and personality of our team of tour guides.

Why do we think so?

Simply because we have met each one of them, talked a lot to them and had a short excursion with them. However, the most important thing is reviews of our satisfied and happy tourists which had tours with our guides.☺

HOW TO PLAN A TOUR WITH US
---
Planning a tour of St Petersburg with us is very simple and straightforward.☺
Firstly, start browsing around our large section of St Petersburg Russia tours, so you can get an idea of what kind of tours we offer.
Secondly, choose the tour that you'd like to do or gather any ideas or interests you have in mind for creating a completely new tour.
Thirdly, fill out the form below accurately with all the details requested, including any extra information you want to add. The more info you give to us, the better!

After sending your tour request we will deliver to you a first draft of the tour itinerary along with an estimated cost of the tour.

From there on we'll gather additional information from you in order to adjust your tour according to your interests, time and budget.

Once you're happy with the tour we've designed for you, we'll proceed with the reservation, which consists of sending us a small deposit as a confirmation of your attendance.
Note: Remember to submit your tour request at least two weeks prior to your preferred tour date and to reply to us as soon as you can.

SEND A TOUR REQUEST TODAY
---
Start making your trip to St Petersburg a reality! Send us a tour request today by filling out the form below in all its parts.


ADDITIONAL INFO
---
Have you got a question? If so, take a look at our most frequently asked questions below.

Who is S.P.E.G. Tours?
S.P.E.G. stand for St Petersburg Essential Guide! We are a small licensed company recognized by local tourism officials that provide free information about the city and organize private tours.

When to book a tour?

To take a guided tour of St Petersburg with us, you should make a reservation in advance as our tours can fill up quickly. Reservations should be booked from 7 to 180 days in advance. Reservations for several days tours will not be accepted for tour dates within 7 days as there are so many things to organize: tour guide reservation, transportation, tickets to the museums, tour vouchers, etc. Reservation for short and simple tours can be accepted within 3 days.

How and when to pay?
To book a tour you need to send a deposit first via PayPal, Bank Transfer or Western Union. Regardless of how you choose to pay, the transaction fees are on you. Once we've received the deposit, you'll pay the remaining amount due in cash to the guide. Our guides accepts Euro, Dollars and Rubles, but not credits cards! Further details will be send on a PDF file along with your tour itinerary.

Why pay a deposit?
We take a small deposit as a confirmation of your booking. The deposit include our service fee (10% of the total cost of the tour), the cost of entrance tickets to sites, tour vouchers if needed, and transaction fees. If you're acting on behalf of a travel agency organizing a tour for a large group of people, then the total cost of the tour must be paid in advance via Western Union or Bank Transfer.

How can I cancel my tour?
You can cancel your reservation confirmation by sending us an email no later than 7 days prior to your tour. Cancellations received on the 6th day or closer to your tour are liable for a fee. When you cancel a tour the payment sent to cover the entrance tickets, which we buy in advance, is not refundable.

Are your guides licensed?
Of course they are! All the guides who work with us are registered at the Federal Agency of Tourism of the Russian Federation. This mean that they can enter for free and make excursions in all the main sights of the city, buy tickets-vouchers and provide tour vouchers (blanket visas) for cruise passengers, if needed.
Should I tip the guide and driver or not?
Gratuities are up to you and are not included in the price! If you've enjoyed the tour feel free to give a tip to the guide and driver. Sure they'll be happy! We recommend 10% of the tour cost to the guide and 10% to the driver, to be given separately.

Do you provide the Russian Visa?
For visitors coming by cruise ship we provide tour vouchers. The tour voucher operates as a Russian visa for cruise ship passengers who book tours with us. This service will be included in your tour price. We will issue you the tour voucher after receiving your passport data. Instead, if you're coming by plane, train or bus we can issue an invitation letter to support your Russian visa.

Will there be time to shop on your tours?
Of course yes! Just ask and we will include extra time to let you buy Russian souvenirs or make shopping.

Can I take a break when touring with you?
Certainly! But it depends on which tour you take. If you are booked on a group tour, it will be difficult for you to take more than a few moments to rest. This is because it is hard for a guide to manage all of the needs of all of people in your group. We recommend you consider booking a private option, where your unique needs can be easily accommodated.
Why are you asking for a Skype ID?
If you want, we can answer all your questions and discuss your Russian tour via Skype. Our chat will be led in English, Italian, Portuguese  or Russian only and will last no more than 30 minutes. Currently this trial option is free of charge, so feel free to try!
Warning: If you're going to tour St Petersburg with us please note that if paying in cash, we will not be able to accept foreign currency in bad condition. Banknotes should be clean (have no writings or stamps of any kind), crisp and fairly new, with no defects or damage. It is the requirement of Russian banks to charge us 10% of the value for banknotes in poor condition or refuse exchange.

S.P.E.G. CUSTOMER REVIEWS
---
Written by Davide C.


---

From Tour St Petersburg return to St Petersburg Russia Tours or go to the Home Page.

DO YOU LIKE ST PETERSBURG ESSENTIAL GUIDE? HAVE YOU FOUND THIS PAGE HELPFUL?
---
If you do, please help others to find out about it. If you have a blog or website, or know someone who does, consider linking to us. Share the link on Facebook, Tweet it... you get the idea. Every link helps!