TRIP TO ST PETERSBURG RUSSIA
let us HELP YOU PLAN YOUR NEXT VACATION!

Need help with the planning of your trip to St Petersburg Russia? Here you can ask the expertise and knowledge of two locals to plan an extraordinary Russian vacation.

---
Most of you will agree with us that planning a trip somewhere can be overwhelming and time-consuming. Searching for information online on where to go, what to see & do, where to stay, and put it all together is really a daunting task, especially when you haven't done something like this before.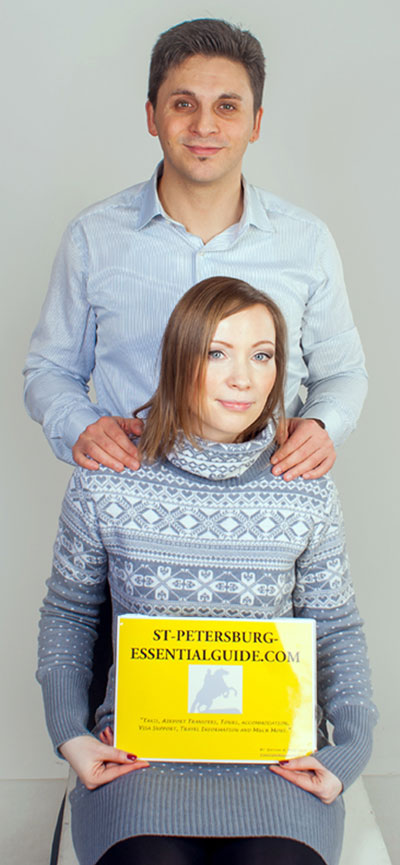 Davide & Anastasia
We know that because, Anastasia and I, love traveling and have planned countless trips in and out of Russia for ourselves (and even some for our friends and family).
And, since we have started our online journey with st-petersburg-essentialguide.com, the site you're visiting now, we understand that even more because on a daily basis we help many people all over the world with the bulk of the information they have to handle in order to plan their own journey.
That being said, we assume that if you're on this page is because you have in mind to visit our beautiful city of St Petersburg, also known as the cultural capital of Russia or the Venice of the North.
You are here because you are not sure where to begin, or you have multiple questions and need more detailed advice, or simply you don't have enough time making that perfect itinerary. Whatever is your reason we are glad to assist you with the planning of your trip to St Petersburg Russia from start to finish.
PLAN YOUR TRIP TO ST PETERSBURG RUSSIA with us

---
Ready to plan your trip to St Petersburg? If so, learn how we work and how you can benefit from our knowledge by clicking on the links below, or simply by scrolling down.

WHAT YOU GET

---
We can help you plan a custom itinerary tailored to your time, budget, and preferences, and we can answer any itinerary planning questions or arrange a number of travel services in St Petersburg and/or beyond prior to your arrival.
A travel planning consultation is ideal for those who have some idea of what they'd like to see & do in Saint Petersburg Russia but require some hands-on help and advice putting it all together. However, keep in mind that there are certain things we cannot do such as booking a flight or a hotel because we are not a licensed travel agency, but rather travel planners.
Our travel planning consultation includes...
General trip consultation – We are happy to discuss your goals and interests, as well as review and/or amend your rough itinerary, and answer any questions related to your trip to St Petersburg.
Planning your daily activities in the city based on your budget, time, and likes.
Help with restaurants and tickets reservation in the city.
Planning and arrangement of a guided tour based on your special interest, budget, and time constraints.
Hotel suggestions tailored to your budget and preferences as well as organizing special arrangements for honeymoons, anniversaries, or weddings.
Flight booking advice for the best and cheapest routes and/or least time in layovers.


WHAT ARE THE BENEFITS
---
If you choose to work with us we'll help you plan and book your trip to St Petersburg as if it was a trip we were planning ourselves and provide recommendations as we would for our closest friends and family members. But, please understand that in order to help you with the planning of your Russian holiday we have to charge a fee for it because time spent consulting is time spent away from our daily life.
When working with us we believe you will...

...get the right answers and assistance from two locals who have a large partner network across the entire city.
...avoid headaches, feel less overwhelmed, and spend a fraction of what you'll pay if your Russian trip goes wrong.
...save time, not only in the initial planning of your trip (where most people usually spend weeks researching) but also with the trip itself, by looking at the best travel options and tour itineraries.
...be sure to have an itinerary construction to mesh with your personal needs, budget, and desires.
... get the most out of your trip to St Petersburg thanks to our local expertise and knowledge.


how does it work
---
We offer a video/chat Skype dedicated session call where you can ask any questions you might have about your trip to St Petersburg Russia. We will have a conversation to understand when you are coming, how long for, what you enjoy, and what you would like to see and do during your visit. You tell us your ideas, and we will share ours to help you with your itinerary planning and everything else you need along the way.
Our video/chat Skype session is split in four parts...

1. You can book a chat of 30 mins - this option is ideal for those who have a few questions and prefers chatting instead of speaking.
2. You can book a chat of 60 mins - this option is ideal for those who have more questions and need a deep itinerary review.
3. You can book a video call of 30 mins - this option is ideal for those who have a few questions and prefers speaking face to face.
4. You can book a video call of 60 mins - this option is ideal for those who have more questions and need a deep itinerary review. 
In order to book a Skype travel consultation with us follows the following steps...
From the PayPal form below pick the option that suits you well and books your consultation via PayPal. 
Once the payment has been sent you should be automatically redirected to our contact us page.
When you are on our contact us page you must fill out the form and specify your type of request. This way we can collect your name, country, and email address - plus you can leave a message to provide us with more information about your journey.

Once we've received your request, you'll get an automatic follow-up email, informing you that your message has reached our email inbox. Within 48 hours, you'll receive a new email to schedule a video/chat Skype session with us. 
book your CONSULTATION TODAY
---
Ready to book? We've helped hundreds of people plan their trip to St Petersburg and you can be the next. If Russia's Northern Capital is your next travel destination, and you want someone to help you with the planning or you just have some questions, then book your consultation today.

ADDITIONAL INFORMATION
---
Start your planning, and contact us, well in advance of your trip to St Petersburg. We're very busy, and we may not be able to help you at short notice.
When you submit the online form through our contact page make sure you tell us more about your trip and/or write down the questions. This way you'll help us to better understand your travel needs and any special requirements you may have.

Once the payment has been finalized and the request received, we'll start working with you and send you further details.
If you need an invoice, we can provide you with one at the end of our consultation.
Please note that we don't offer hotel or flight booking but only provide you with links to make a booking. We will do the research for you, but you are responsible for purchasing the travel yourself.
For your information, we offer a one week support email as a follow up for each of our Skype consultation options, if required.

Credit cards are accepted and you don't need to open a PayPal account to send the money if you don't want.

If you don't have a Skype account but you still want to talk to us just ask for our mobile phone number through the contact us page.


---


From Trip to St Petersburg Russia return to the Homepage

DO YOU LIKE ST PETERSBURG ESSENTIAL GUIDE? HAVE YOU FOUND THIS PAGE HELPFUL?
---
If you do, please help others to find out about it. If you have a blog or website, or know someone who does, consider linking to us. Share the link on Facebook, Tweet it... you get the idea. Every link helps!