ST PETERsBURG NIGHTLIFE
drink & dance the night away
with OUR RECOMMENDATIONS!

---
Jump into the bustling St Petersburg nightlife with our insider's guide to the best city's bars, pubs, and clubs.

The nightlife in St Petersburg is sparkling. You can eat, drink, and dance around the clock. From lit jazz halls and Irish-style pubs to groovy strip-clubs or underground bars, and dance clubs the city offers plenty of ways to have fun after the sun goes down.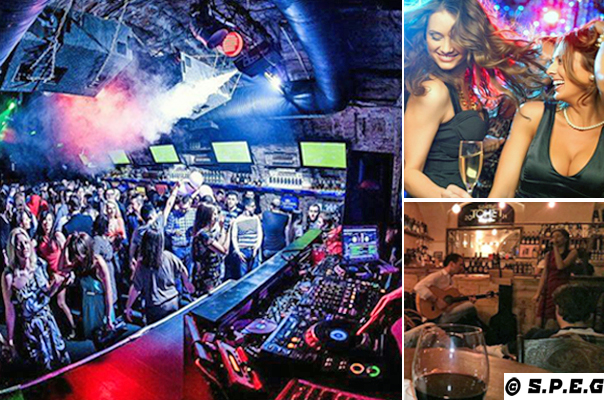 St Petersburg Nightlife
With the opening of new venues such as cocktail or wine bars, karaoke or disco bars, and others, the city's nightlife has evolved a lot in the past decade. This growth has led St Petersburg nightlife to become the most varied and friendly in the country.
Here you won't find all the glitz and glam of Moscow's nightlife, but a more down to earth and easy-going atmosphere where anyone from everywhere can experience a pleasant and safe night out without breaking the bank.
How do I know that? Simply because I have been living in St Petersburg for the past 5 years, and from time to time I like to party myself.
That said, if you love boogieing, boozing, and partying like locals do, then head out to Ulitsa Dumskaya and Rubinstein. There you can find all you need for an awesome night out. When going keep in mind that each place has its own style, audience, and type of music, including rules. So before you go, learn how to dress, and what to expect, and remember to smile.☺
ST PETERSBURG NIGHTLIFE RECOMMENDATIONS
---
Ready to party? If so, get out of bed and start planning your night out with our insider's guide to St Petersburg nightlife. Click on your category of interest below, and choose.

COCKTAIL BARS
---
Whether you're after a classic cocktail bar with a seventy-year pedigree, or a perfectly shaken martini, here you can find a list of our favorite cocktail bars in the city. From hidden speakeasies to glamorous hotel bars, the imperial city has a bunch of nice spots for tasting new creative sips.
HAPPY HOUR 
---
Looking for a perfect place to unwind after a long day of sightseeing? Check out our roundup list of happy hour bars in St Petersburg. Grab a glass of beer, wine, spirits or cocktails, and enjoy an unbelievable happy hour in Russian style.

WINE BARS
---
Sipping a glass of wine while hanging out with friends is one of our favorite pastimes in St Petersburg. If you're a wine lover too, or you're just looking for a bar to enjoy a glass of red or white, then here are some of the best city's wine bars worth visiting. 

NIGHTCLUBS
---
Whether you want to dance, socialize, or just soak up the music, Saint Petersburg has a vast array of interesting choices for party lovers. From underground rock music clubs and rave venues to retro club discos, the clubbing scene in St Petersburg is diverse and vibrant. Here you can find a list of the best city's nightclubs to hang out.
BARS
---
St Peterburg is a haven for casual drinkers and alcohol enthusiasts alike: from vibrant underground and secret bars to quirky artistic bars, the capital has somewhere to booze whatever the occasion. Here are some of the best city's bars worth going for a fun-night.

PUBS
---
Looking for a good pint? Check out a list of what we think are the best city's pubs offering an Irish and English touch along with plenty of Guinness and tasty local food. If you go, keep in mind that these spots can be not as warm as the Irish ones.

ROOFTOP BARS
---
If you want to enjoy a few drinks with some of the best views in the city, then take a look at our favorite list of rooftop bars in St Petersburg Russia. There you can enjoy a standout environment for delicious mixed drinks, fine wines, and light gourmet fare after a long day of working or sightseeing around town.

KARAOKE BARS
---
St Petersburg nightlife is not only about dancing and drinking! If you are up for a sing-song while visiting the city, try our top list of karaoke bars, and enjoy singing your heart out to the latest hits or camp classics along with a few drinks.
JAZZ & BLUES

---
St Petersburg can't claim to be the birthplace of jazz, but undoubtedly the city is – among its other cultural top-spots – the jazz capital of Russia. If you are a jazz enthusiast, or a blues lover, here are the five best jazz bars in St Petersburg for a swinging night out.

SPORT BARS
---
Fancy watching a game and enjoying a frosty beer? If so, don't look further! Here are some of the best city's sport bars, where you can enjoy your favorite team playing on the big screen along with a drink, and of course, some yummy food.

STRIP CLUBS
---
Relax with the company of gorgeous Russian girls and enjoy the hottest strip shows you'll probably never forget. If you're looking for a good strip club and lap dancing venue during your visit, then step in at one of the listed glamour strip-clubs here, and have fun.

GAY BARS
---
St Petersburg's LGBT scene isn't as big as in other countries, but undoubtedly there are a few places to go. If you're keen to pop in, here's our pick of what we think are the best gay and lesbian bars in the city to explore.

Written by Davide C.

---


From St Petersburg Nightlife return to the Homepage

DO YOU LIKE ST PETERSBURG ESSENTIAL GUIDE? HAVE YOU FOUND THIS PAGE HELPFUL?
---
If you do, please help others to find out about it. If you have a blog or website, or know someone who does, consider linking to us. Share the link on Facebook, Tweet it... you get the idea. Every link helps!