St Petersburg Attractions
   Find Out What to See in THE IMPERIAL CITY

---
Looking for St Petersburg attractions? If so you've come to the right place. Here you can find a complete list of the best sights of the city and learn more about each of them.

St Petersburg Attractions are a combination of matchless architectural ensembles, great historical and cultural monuments, picturesque parks and gardens, stunning cathedrals, churches, and sculptural compositions, as well as numerous rivers and canals framed by granite embankments and patterned railings of bridges.
All of this put together makes the Northern Capital of Russia, the most European-like city in the country, a unique, elegant, and magnificent place, well worth exploring.
Palaces, cathedrals, churches, narrow streets, wide avenues, canals, and rivers surrounded by 18th and 19th-century buildings, reflect different architectural styles and have delighted millions of visitors for three centuries up to now, including us - two locals living here.☺
Many famous people who contributed to the history and culture of Russia, have also visited today's most wonderful attractions in St Petersburg: Tsars and princes, artists and poets, writers and adventurers.
Thus, when walking along the streets of Saint Petersburg anyone can breathe the cultural atmosphere in which people such as Lomonosov, Derzhavin, Pushkin, Gogol, and Dostoevsky did when they were writing their masterpieces. And, if you come, you too will experience such a great cultural and poetical atmosphere.
ST PETERSBURG ATTRACTIONS IN ONE CLICK

---
Are you ready to experience the vast history, romance, and treasures of St Petersburg, Russia? If so, keep reading below and learn more about St Petersburg attractions.
To help you get to know all the main and best tourist attractions in Saint Petersburg, we have organized them into different categories. To get you started just click on the links below.
TOP ST PETERSBURG ATTRACTIONS

---
From the famous Hermitage State Museum to the summer residences of the Russian Tsars, from the majestic architectural of cathedrals and churches like St. Isaac and Kazan Cathedral or the Church on the Spilled Blood, one of the most pictured churches in the city, find out St. Petersburg's most visited and interesting tourist attractions.
MUSEUMS

---
From over 100 museums, ranging from the vast Hermitage Museum, one of the world's most famous galleries, to several museums of art, science, history, and politics, including small apartments devoted to Russia's greatest writers, St. Petersburg offers exciting and diverse expositions for everyone.
PALACES
---
St. Petersburg boasts a huge number of stunning and imposing neo-classic palaces where Tsars and famous aristocratic families lived in the past. From the most popular Winter Palace to Mikhailovskiy, Stroganoff or Yusupov Palace, and many others, there are plenty of royal rooms to visit and great stories to hear.

CHURCHES
---
Most of the great and well known orthodox churches in St. Petersburg are located in the heart of the city, while others, those small parish churches, are spread out and hidden randomly everywhere. They come in different sizes, shapes, and architectural styles, but they all are spectacularly beautiful. Some are even places of worship in the city.
CATHEDRALS
---
St. Petersburg's Orthodox Cathedrals are also extraordinarily different and spectacularly beautiful. Their architectural styles and decoration are astounding, if not the most fascinating in the world. Each cathedral was built to show the Russian Empire's wealth and power to the fullest - in fact no expense was spared in their construction or decoration.
MONUMENTS
---
St. Petersburg is home to dozens of splendid and elegant monuments and statues, which are a very important addition to St Petersburg attractions. Each of them is devoted to the city's most prominent public figures (poets, scientists, military leaders), as well as celebrate the remarkable and suffering historical events that have marked and formed this beautiful Russian city.
RIVERS AND CANALS

---
The majestic rivers and canals of St. Petersburg easily rival those of Amsterdam and Venice. Along with its many bridges, those historic rivers and canals are an essential feature of the city, as well as an essential part of any sightseeing itinerary. Together with its palaces, parks, and monuments, they create a unique poetical image of Saint Petersburg Russia, which almost everyone falls in love with.
ISLANDS
---
Dubbed as - the Venice of the North - St. Petersburg is a city built on hundreds of islands across the delta of the Neva River, some of which have a unique nature and an interesting history that is well worth visiting. From Zayachy Ostrov (Hare Island), where the famous Peter and Paul Fortress were built to Vasilievsky Island, and many others, the list is endless. 

MAIN BRIDGES

---
Considering that the imperial city is built on over 100 islands, the bridges, like the rivers and canals, are an essential part of St. Petersburg's architectural make-up. There are over 500 bridges, but only a few are worth mentioning as not all are architectural and technological masterpieces, so interesting to see. The not-to-miss bridges are those who raise up late at night from May till July.

PARKS AND GARDENS

---
St. Petersburg is one of the greenest major cities in Russia. The city offers large areas of green space, including beautiful historic gardens and extensive leisure parks where everyone can take a nice stroll or relax for free, apart from a few exceptions. From the famous Summer Garden to the Field of Mars, find out the most interesting parks and gardens of the city.
THEATErS AND CONCERT HALLS

---
It is not only palaces and churches, or monuments and several exhibitions that make-up St Petersburg's gigantic treasure-house of art and architectural gems, but there are also many interesting city's public buildings to explore, such as the famous Mariinsky Theater, the Alexandrinsky Theater, and the Mikhailovsky Theater. Throughout the year inside of these famous building both Russians and visitors enjoy rich traditions of musical theater, drama, and classical music, renowned throughout the world.

IMPERIAL ESTATES NEAR ST PETERSBURG

---
A trip to St Petersburg is not complete without a visit to at least one of the worldwide famous St Petersburg attractions such as the Imperial Palaces and Complex Parks situated in the city's suburbs. Just 30 km away from the city you can admire the wealth and heritage of the Tsar's residences, which is made of splendid neoclassical buildings, large gardens and parks filled with unique architectural monuments and works of sculptures, fountains, lakes, trees, flowers, and much more.
TIPS & RECOMMENDATIONS

---
Visiting the imperial city takes time and energy because there are a lot of places to cover. This means that to see the main St Petersburg attractions and its suburbs, you need at least 3 full days, while to explore the whole city and its little gems you'll need more than a week.
For your information, many of the main St Petersburg attractions are located in the central part of the city, so finding a hotel on Nevsky Prospekt or nearby would be a good idea.
You're likely to be doing a lot of walking, sometimes on cobblestones, so make sure your footwear is comfortable. Save the stilettos for dinners and nights out.

If you're short on time I would recommend taking a Private Tour Guide. By doing this, you save time and energy and a lot of stress – plus you won't miss out on the most interesting landmarks.
If you prefer to visit St Petersburg attractions on your own, then just visit a few great places and when you return, you can see the rest. Visiting the city on your own is doable but the first time can be a bit daunting or overwhelming as there is a lot to see and do, and knowing from what to start is a hard task. 

Admission tickets are not expensive apart from the Hermitage museum, which is the most popular city attraction after Tsarskoye Selo and Peterhof. Usually, the ticket price varies from one place to another, and each season the price goes up. That said expect to pay something from 200 to 1000Rubles, which is about 4.00€/30.00USD and 15€/17USD.
Remember, if you buy your tickets with a tour guide, you will skip the line, but the price may go up a little bit as you'll get special entrance tickets with the time and date of your incoming visit already stamped on it.

Usually, from May to September is high season in the city, so I recommend to buy your tickets in advance only for the top sights. If you don't, you may end up spending hours in the queue, so ruin your sightseeing.

Also, be aware but not paranoid about pickpockets and muggers around the top attractions. Just use the same precautions as you would anywhere in the world.

Lastly, if you want to get the most out of your trip to St Petersburg Russia, make sure you book a tour guide or at least plan your visit and sightseeing ahead of time. Do a little research on the places you wish to visit. Lastly, if you want some help in organizing your Russian vacation feel free to Get in touch with us.

☺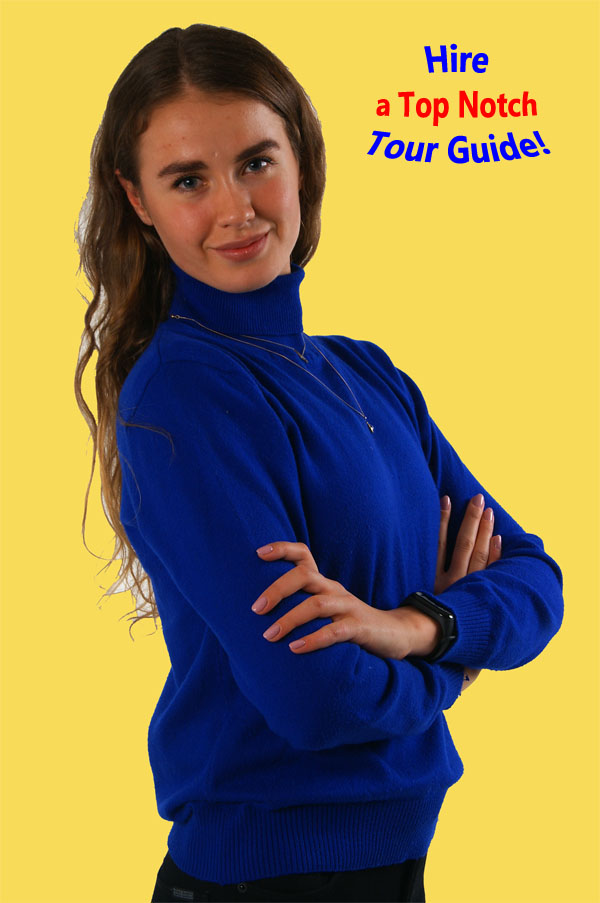 LOOKING FOR A PRIVATE TOUR?

Book a guided city tour with one of our professional tour guides, and get the most out of your visit to Saint Petersburg, Russia.

---


Return from St Petersburg Attractions to the Homepage

DO YOU LIKE ST PETERSBURG ESSENTIAL GUIDE? HAVE YOU FOUND THIS PAGE HELPFUL?
---
If you do, please help others to find out about it. If you have a blog or website, or know someone who does, consider linking to us. Share the link on Facebook, Tweet it... you get the idea. Every link helps!