St Petersburg Sightseeing Tours
Tour russia's northern capital
by Bus, bike, and Boat, or on foot!

---
Our St Petersburg sightseeing tours give you the perfect way to discover and enjoy our charming city in a number of unique, easy, and fun ways.

There's no better way to experience the city's attractions and its famous landmarks, as well as its surroundings than to combine a city guided tour with a boat or a bike ride, and a private bus, or even a helicopter tour, if you can afford it.☺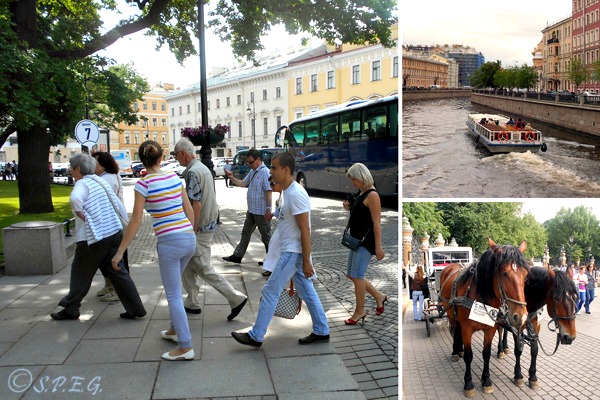 St Petersburg Sightseeing Tours
All our customizable City Sightseeing Tours allow you to have more time to visit museums, palaces, and cathedrals, as well as take amazing photos, go shopping and have lunch or dinner in one of the best restaurants and cafes around the city.
However, if you're looking for alternative and fun ways to discover St. Petersburg, you can also take a Segway Ride Tour and glide along the famous Nevsky Prospekt or Palace Square; or jump on a relaxing Four Wheel Bicycle Tour, perfect for a family with older kids; or even go for a more romantic option like a Canal Boat Tour or a Horse and Carriage Ride Tour. And if this is not enough, you can even take a Rooftop Tour, and enjoy a nice view of the imperial city from the roof, weather permitting. 
For your information, you can find some of these last-minute tours on the go just mentioned in the central part of the city. Just walk along the main avenue Nevsky and look around! We call them tours on the go because there is no organization behind them, but we can help to organize some of them if you ask.

That said, whatever way you choose to Tour St Petersburg you should never miss the key sights, such as the Hermitage State Museum, the Church on the Spilled Blood, and the Peter and Paul Fortress, or St. Isaac's Cathedral, including some of the stunning parks.

ST PETERSBURG SIGHTSEEING TOURS - choose & go!

---
Below you can find a list of the most popular St Petersburg Sightseeing Tours. Each category has a short description with a link for further details. To learn more just scroll down the page or click on the links to learn more on our St Petersburg sightseeing tours. 

BUS, CAR OR MINIVAN TOURS

---
Tour St. Petersburg independently by jumping onboard a red double-decker tour bus or by taking the original city bus tour with professional live commentary on board included in the price. Alternatively, rent a private modern car, minivan, or minibus along with an English speaking local guide and start your visit to Russia's Northern Capital in comfort and at your own pace.
RIVER BOAT TOURS

---
Discover the city's best views and see its bridges and palaces from the water. Take a day or night riverboat tour or rent a boat just for yourself and start cruising along the most famous rivers and canals of St. Petersburg. See the city from another angle, enjoy good food and live music while onboard and make your visit more fun.
WALKING TOURS

---
Explore St. Petersburg on foot and experience the everyday lives of Russians with a moderate or intensive guided Walking Tour. Stroll through the city's streets, rivers and canals, courtyards, old squares or parks. See the key sights closely and stop at a local cafeteria to taste a Russian pie. Learn about the history of the city from a local guide and take photos anytime you want without feeling rushed.

BIKE TOURS

---
Visit our historical and cultural city on two wheels, with the wind in your hair! Combine cycling, fun, and history with an amazing guided Bike Tour and get a unique perspective of St. Petersburg and its surroundings in a short time. Stop at any corner, take pictures, and enjoy fascinating stories from your local guide while cycling around the city's streets, parks and rivers.
TOUR BY HELICOPTER

---
Discover Saint Petersburg from the sky and enjoy a unique sightseeing tour experience. Get to see the city's most famous sights, such as the Winter Palace, St. Isaac's Square, the Peter and Paul Fortress, or the Smolny Cathedral from the window of a helicopter. Fly over the city center or to the famous imperial suburbs and enjoy a once in a lifetime experience.
TIPS AND RECOMMENDATIONS

---

Most of what you want to see are located in the central part of the city, while other city tourist attractions are out of the downtown area. So if you need to go further, then take the metro, which is cheap, fast, and easy to navigate. If you like only walking, that's fine and doable, but don't expect to cover all the sites and be ready to get tired as the city's attractions are Kilometers away from each other.
If you are going on a walking tour, make sure you wear a comfortable pair of shoes and bring with you an umbrella as the weather in St Petersburg is unpredictable.

Take a foldaway shopping bag as the stores do not provide them and charge you for bags and boxes.
You should know that there is a free walking tour available in the city, which is not customizable and only operates on specific days of the week. Of course, the quality of this tour would be different as you will be touring with young and inexperienced people - plus you'll be joining a large group of people.

If you don't want to book a private boat tour you can take the water taxi and tour the city at a very cheap price. However, the overall experience will be very different from a boat tour with a guide.
If you're thinking of taking the city buses or trolleybuses to reach some of the main sights of the city, don't do it. You will end up just feeling stressed or annoyed because of the crowds of people on board.
The best option among all the St Petersburg sightseeing tours offered is to combine a private tour with a car or a van with a driver for a day. This way you can see what you want at your own pace, learn more, and save time.
Take the Hop-on, Hop-off Red Bus, or any other Bus Tours in the city preferably in the early morning or the early evening as weekdays in St. Petersburg are usually characterized by terrible traffic. The weekend is fine though!
To save some money and avoid long queues you can use the St Petersburg Guest Card. You can buy it online or in any kiosk in the city for the same price. However, there are still some contradictory opinions about how useful this system is. Honestly, we have never tried it, and therefore we cannot recommend it, but feel free to give it a try.

Keep in mind that all our St Petersburg Sightseeing Tours need to be booked in advance. And, if you fancy a city bike tour, only Saturday and Sunday are the best time to tour the city on a bike.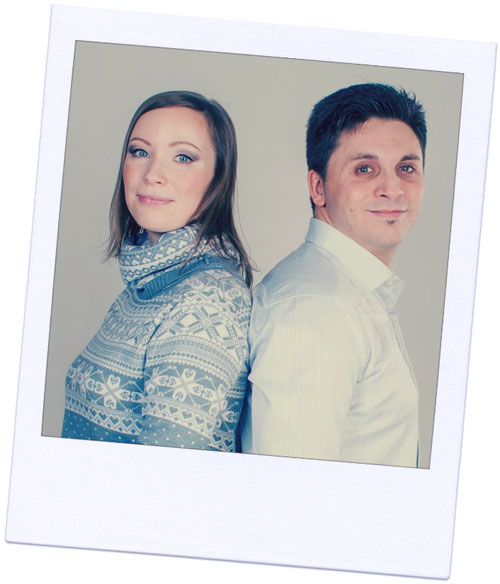 Hello! We are Davide & Anastasia the founders of st-petersburg-essentialguide.com.☺
We would like to let you know that apart from writing unique content for our travel website we can also help with the arrangement of your Airport Transfer, Private City Tour, and Russian Visa Support, or anything else you may need during your stay or the planning of your trip to St Petersburg Russia. Just get in touch with us today for more info!


---


From St Petersburg Sightseeing Tours return to St Petersburg Russia Tours or go to the Homepage

DO YOU LIKE ST PETERSBURG ESSENTIAL GUIDE? HAVE YOU FOUND THIS PAGE HELPFUL?
---
If you do, please help others to find out about it. If you have a blog or website, or know someone who does, consider linking to us. Share the link on Facebook, Tweet it... you get the idea. Every link helps!