Saint Petersburg Metro
The Best Way to get Around the City

---
The Saint Petersburg metro is remarkably efficient and architecturally beautiful. That's why it's worth a visit even if you don't really need to take it.

St. Petersburg's Metro is one of the deepest in the world (105 meters below ground) and one of the most beautiful (second only to that in Moscow). Opened in 1955, the subway is considered the 12th busiest metro system in the world. It has five lines, 67 stations, 3,500 trains and over 2.5 million passengers each day, and is served by a staff of 12,000 people.

St. Petersburg's subway system - locally we call it the "M" - is the easiest and cheapest way to get around the city, aside from walking. No matter how far you ride - you will always be paying the same fare. That's why, compared to other St Petersburg public transportation, this is really the best option.
Of course, taking the metro can also be the most frustrating. As you can imagine everyone is using it so trains get easily crowded during peak time. However, that should not stop you from using it because you won't need to wait more than three minutes for a ride. And, most importantly, the Saint Petersburg Metro is an open museum worth visiting.

Almost each metro station is a magnificent work of art designed by some of the country's best architects. So, when you get off the train, don't be surprised to see beautiful statues, mosaics, and golden carvings. Each metro station has its own decoration and meaningful story to tell. Some are dedicated to the Bolshevik Revolution and the Soviet era, others to great Russian famous writers as Pushkin and Dostoyevsky, while many are dedicated to the victory of Russia in WWII.

Nowadays, these subterranean palaces continue to rise year after year to complement the awesome buildings of the city, preserve Russian art, and bring to life the culture and personality of the entire country. For this reason a tour of the metro is a must!☺
HOW TO TRAVEL BY METRO IN ST PETERSBURG russia

---
Thinking of taking the subway? No problem. It's easy, exciting, and safe. Below you can find all the information you need to know about the Saint Petersburg Metro. To get started just click on a topic below to fast-track to that section.

why take saint petersburg metro?
---
There are many reasons you should use the subway. Firstly, you can easily reach most tourist attractions. Secondly, you can move across each island of the city faster and experience vertiginous views from the top of the escalator. Thirdly, you can enjoy a huge dedicated work of Russian art and get a glimpse of the daily life of many Russian People.

Of course, you can also be getting around the city by taking buses, tram, and trolleybus, allowing you to take in the architecture of the city, but as we said the subway is faster and efficient, and most importantly, is an attraction itself for anyone visiting the city of Peter the Great.☺

Without a stop at the Russian subway, your trip to St Petersburg won't be complete.

essentials: st petersburg subway basics

---
Saint Petersburg metro has five colour-coded (red, yellow, blue, green, violet) and numbered metro lines (M1, M2, M3, M4, M5). In order to change lines, you usually need to change stations.
There are underground passageways linking adjacent stations like Sadovaya/Sennaya Pl. and Nevsky pr./Gostiny Dvor.  When you arrive at a station, it can be difficult to see the name of where you are. You will hear the arrival station announced, followed by the name of the next stop. This can be confusing, so it's best to count your steps.

You should also know that some platforms are enclosed and resemble a long hall full of elevator like doors. So, you can't see the train as it approaches, but you can hear it and suddenly the doors will open – on the other side of the doors you will find a train to board!
The trains run quite frequently (every 2-3 min) and are always punctual. During rush hours the metro can get crowded, so it is better to avoid travelling during these times if you want to avoid pushing, shoving and queue-cutting.

Lastly, the map of Saint Petersburg Metro, all tourist information, and metro signs are now in English and no longer in Cyrillic like it was a few years ago. This change makes it easier travelling by metro if you don't speak the Russian language.☺

HOW TO PAY AND GET IN

---
The Saint Petersburg metro entrances are marked with a blue letter "M" on top.
To take the metro you will have to pay with tokens (zheton) which can be bought from the ticket windows (labelled Kacca) upstairs at each Russian metro station.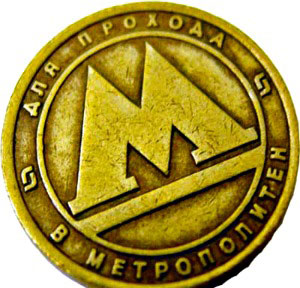 Russian Token
The ticket fare is fixed. It will cost you 55 Rubles (less than one dollar) and you will pay only to enter the Russian subway, and the time spent there, distance travelled and routes covered will be unlimited.
So, take your time to explore around as you will be able to spend inside as much time as you like.
To get to the metro cars, you will have to insert your token into the appropriate slot to the right, go through the barrier, and then, go down the escalator.
You will find also vending machines of two types in nearly all metro stations. The old orange machines will allow you only to insert a set denomination of note (currently 100 Rubles) and obtain a set number of tokens plus change. If no light is showing, the machine is not working.
The second kind of machine, is computerized with a touch screen, and will allow you to choose the number of tokens you require, pay with different denominations of note or coin, and also to buy or top off cards. Being new, these are the best!

For your information, a really good way to save you time and money is to buy a magnetic card or electronic pass for as many rides as you want 10/20/25/40/50/70 units), or simply a one month-metro pass, if you wish to stay longer.

For example, you can get a card for 10 rides that can be used in seven days for the price of 355 rubles (around €4/US$6) and so on.
However, whether you stay just a week or longer, we suggest that you get a pay as you go travel card called "Podorozhnik". It costs 100Rubles,

You just top up once with the amount you need and you are ready to go. If you're interested in this option find out more here, or ask us to buy one on your behalf.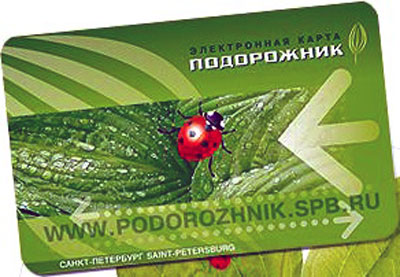 Travel Card
With this card (I got one myself and it works great☺) you will avoid standing in the queue to buy a token every time you enter the Saint Petersburg metro, and also, you will be able to use all the public transportation available in the city. This price range of this type of card is between 50-100Rubles (Less than one Dollar or one Euro), then on top of that you put any credit you want.

So, this is a good deal for travellers and visitors, or people not using the metro so often.
SAINT PETERSBURG METROWORKING HOURS

---
The Saint Petersburg metro is open from 5:45 am until 00:20 am and runs every day.
Usually the last train in the line starts on its way at midnight and the passages between the stations close at 12:15 am.
During rush hours (8:00 - 10:00 am, 6:00 - 8:00 pm) the metro is overcrowded, so it's better to avoid it if you don't want to be stuck on the metro with hundreds of Russians.
During the Russian New Year, or other special occasions such as the Scarlet Sails at the White Night festival, the subway works until 2 am, and opens at 4 am on January 1st.

GET SOME ORIENTATION

---
If you are wondering at some point where you are, then don't worry! You can always look at the maps you will find upstairs (before the barrier) in each Russian metro station, and inside every carriage of the trains. Even then, having a metro map is advised.
As already said, all of the maps of the imperial city are now both in Russian and English, but when you arrive at a station, you will hear the arrival station announced, followed by the name of the next stop in Russian.
Unfortunately for you, the names of the metro stations are, and will be always announced in Russian only.
So, as this can be confusing (it was for me "Davide" initially), a good idea would be to count all your metro stops, or better, now you can plan your metro route online with this updated and interactive map of St Petersburg metro. Another option could be to buy a map before you go, or try to get one for free at Pulkovo airport or at the tourist offices in downtown.You decide!

---

Photo of the Metro Sign in St Petersburg.
One more thing, if you need to find your way out of the Saint Petersburg metro look up for the sign exit to the city (выход) and which street (улица). On the opposite side look for the entry sign (вход).
TIPS AND RECOMMENDATIONS

---
Personally speaking, the Saint Petersburg metro is a major cultural and historical landmark. It will greatly enrich your travel experience, so definitely you should try to visit it.
If you do, then take a minute to read our tips and recommendations below.

When taking the metro, remember to learn your route well (count all your metro stops);
Have a local city map by your side to help you to get around (not all Petersburg residents speak English);
Always watch your belongings closely (pickpockets are a pain these days);
Avoid rush hours, so try to use the metro between 10 am and 6 pm.
Tickets can be bought from the cashier windows operating in every station entrance hall - the easiest way to make yourself understood is just to pass through exact change and/or use your fingers to signal the number of tokens you require.

As anywhere else, keep in mind also that when entering the Saint Petersburg metro you will notice some ticket inspectors and policemen standing near the barriers. Therefore, always buy a ticket, and in case the police stop you (you never know), make sure to have your passport (not a copy) with a Russian visa in it and your migration card.
---


From Saint Petersburg Metro return to St Petersburg Public Transportation or go to the Homepage

DO YOU LIKE ST PETERSBURG ESSENTIAL GUIDE? HAVE YOU FOUND THIS PAGE HELPFUL?
---
If you do, please help others to find out about it. If you have a blog or website, or know someone who does, consider linking to us. Share the link on Facebook, Tweet it... you get the idea. Every link helps!