The Wonders of St Petersburg Russia
by Robyn Stephen
(Auckland, New Zealand)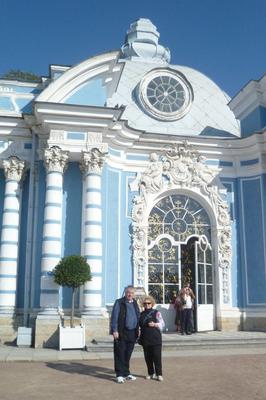 My husband and I at Catherine Palace in St Petersburg, Russia.
There's something about St Petersburg Russia that stays in your memory - it has a certain "je ne sais quoi" about it.

My husband and I had a 6-day stay, but 6 days is not really sufficient time to see everything there is to see. We planned our trip meticulously, and found the Website www.st-petersburg-essentialguide.com an absolute treasure trove of information.

We were travelling in late September, so Autumn/Fall weather. We were met at Pulkovo airport by a car and driver booked before coming via the Website , and can recommend this service. The driver met us in the airport with our names on a sign and our car was a late model vehicle and the driver spoke a little bit of English! It was not expensive.

We stayed at a small boutique hotel(Brothers Karamazov) which is a short distance from Nevsky Prospekt. It has just 28 rooms and is quaint with its Tsarist décor. In our opinion it was much nicer than the large "chain" hotels where you can be forgiven for not knowing which city you've woken up in!

Anastasia and Davide from the Essential Guide website were most helpful in answering our emailed questions and in fact went far beyond expectations in their eagerness to be helpful.

They obviously have a deep love of their beautiful city – a love we now share.

We also used a friendly and professional English speaking Tour Guide on most days, except the day we went to The Hermitage as we spent 7 hours there and didn't want to be rushed through. We spoke only a smattering of Russian so the guide was a godsend!

We managed to cram in the Catherine Palace, Peterhof which we visited by hydrofoil, The Hermitage, a ballet at the Mikhailovsky Theatre, a Metro tour, a dinner with Anastasia and Davide at a lovely café restaurant, the enchanting Faberge Museum, lots of walks through the streets with its canals, and lovely architecture, as well as an excellent cultural show.

Unfortunately, we didn't manage to fit in a visit to a supermarket, a look at a dacha, or the Vodka Museum, and many more things that were on our list. C'est la vie!

We live in New Zealand, so it's a major journey of some 17,000 km to reach the city of St Petersburg, but we hope we can return some day and spend longer in this enchanting city.

DO YOU LIKE ST PETERSBURG ESSENTIAL GUIDE? HAVE YOU FOUND THIS PAGE HELPFUL?
---
If you do, please help others to find out about it. If you have a blog or website, or know someone who does, consider linking to us. Share the link on Facebook, Tweet it... you get the idea. Every link helps!