St Petersburg Russia Hotels
Find Your Accommodation With One Easy Search
and Get the Best RATE!

---
Looking for St Petersburg Russia Hotels? If so, use the search box tool below to find the best hotel deals.

The charming and cultural city of St Petersburg is packed with stellar hotels, several hostels and apartments suiting every need, taste, and budget. But if you're a first time traveler to the city you may ask yourself the following questions...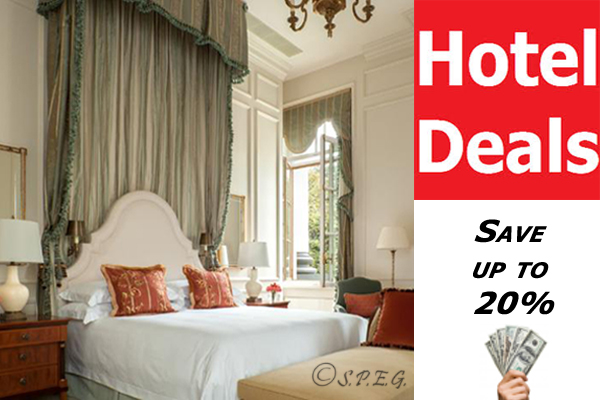 Save up to 20% on St Petersburg Russia Hotels by booking online.
...Which hotel should I choose? Where should I stay? Where can I find a good hotel deal?
As two keen travelers ourselves we know just how frustrating it can be to find a place to stay or to get to a website to find a long list of accommodation options. With over 3500 different types of accommodation in St Petersburg to choose from (hotels, mini-hotels, apartments, bed & breakfasts, etc) as well as so many hotel booking sites to browse, searching for a place to stay can be really hard and time consuming.
Well, finding a hotel in St Petersburg doesn't have to be a chore or cost you an arm and a leg. So, on this page our aim is to make things a bit easier and faster by letting you search the major worldwide booking hotel engines to get the best deals on St Petersburg Russia Hotels, and not only limited to that, here you can also find great package deals suitable for everyone and everywhere.

Ready to start?
If so, use the search box tool below and find the best hotel for your stay! I bet you'll find it useful as much as we do.☺

ST PETERSBURG RUSSIA HOTELS - START YOUR SEARCH HERE

---
From the search box tool below type in "Saint Petersburg Russia" put in your travel dates, and then hit the blue search button. A new window will open with a wide list of hotels. Then, start browsing through the new open page, and choose what suits you best.

WHAT AM I OFFERING

---
I am offering you the best online accommodation website to find hotels in Saint Petersburg Russia as well as in other parts of the world, including apartments, guest-houses, hostels, bed & breakfast, and mini-hotels. The tool I recommend is the popular Booking.com, one of the world's leading e-commerce companies. It offers the best prices for every type of property, from small, family-run bed and breakfasts to executive apartments and five-star luxury suites. This is the same search tool Anastasia and I (Davide) use when we look for hotels somewhere in the world before to travel, so our favorite one.

WHAT ARE THE BENEFITS

---
When using the hotel booking search engine above you can...
Save on hotels in 85,000 destinations worldwide. Browse hotel reviews and find the guaranteed best price on hotels for all budgets.
Book easily, faster, and safely online - No booking fees and instant confirmation guaranteed;
Find the widest choice and cheapest rates for St Petersburg Russia hotels and other lodgings - usually best price guaranteed;
Book online through any device (laptop, computer, etc) or by phone;

Choose from 990,841 active properties in 224 countries and territories, 40 languages and 120 currencies;
Read real reviews online from other travelers and see photos.
Get around the clock customer service if any issue may arise.

HOW IT WORKS

---
The search box tool embedded on this site allows you to instantly search and check room availability and prices from anywhere in the world. If you're planning to travel to St Petersburg, just type in Saint Petersburg in the search box and start browsing through all the options available.

It is 100% free - they don't add any fees or charges. The prices you see on the site include all standard taxes to help you accurately compare hotel offers from different countries.

IS THERE A CATCH?

---
Nope! There is no catch my friend. You have nothing to pay or to buy. The service I share here is free to use. Since 2004 more than 25 million people have benefited from this hotel booking website, including myself. Each day, over 1,000,000 room nights are reserved on Booking.com. So give it a try when looking for St Petersburg Russia hotels deals or indeed hotels anywhere else in the world.

TIPS AND RECOMMENDATIONS

---
Finding the best deals can be challenging and time consuming. But rest easy, here at St Petersburg-Essentialguide.com we come up with a list of booking tips and tricks we would like to share with you.
Hopefully it will help you reduce the cost of your hotel accommodation in Russia and/or elsewhere. See below!

Be flexible with your travel dates - Flexibility with your travel dates will allow you to take advantage of fluctuations in room prices. Remember, rates and availability change depending on the day of the week, time of year, and upcoming holidays.
Book only through third parties - From my own experience it is cheaper to book a hotel room through third party sites rather than directly from the official website of the hotel of your choice, unless you become a member of that specific hotel.

Always book in advance - Make sure you book your hotel room at least 30 days in advance. This way you can be sure to get the pick of the widest range of hotel room options. Not only can room prices jump in the lead-up to a particular date, but the availability and room choice will be limited.
Choose a standard room - Standard rooms are usually the most affordable hotel rooms.
Always check your rate - Make sure the rate you are being offered includes taxes and additional fees.

Think free extras - Keep an eye out for St Petersburg Russia hotels offering complimentary breakfast, WiFi or cancellation. These added elements will save you some money when it comes to settling the bill.
Try to think independent - Look beyond the famous international hotel chains. Independent owned hotels can offer excellent rates and services and are often up to 50% cheaper than major hotel brands.
Shop around online - The key to get the best hotel deal is research. You should be sure to check out as many options as possible without wasting too much time. There are hundreds of sites out there offering different rates and options, but only with booking.com you can get the best prices.

Remember - The best St Petersburg Russia hotels are located in the central part of the city, in and around Nevsky Prospekt. Good luck!

Written by Davide C.

---


From St Petersburg Russia Hotels return to St Petersburg Hotels or go to the Homepage

DO YOU LIKE ST PETERSBURG ESSENTIAL GUIDE? HAVE YOU FOUND THIS PAGE HELPFUL?
---
If you do, please help others to find out about it. If you have a blog or website, or know someone who does, consider linking to us. Share the link on Facebook, Tweet it... you get the idea. Every link helps!